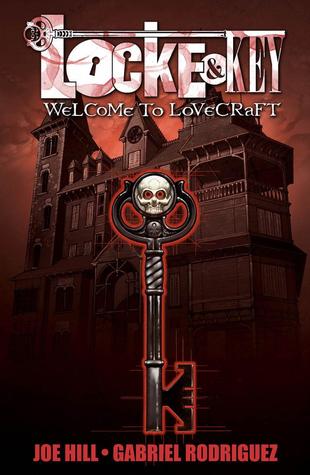 Title:
Locke & Key: Welcome to Lovecraft
Locke & Key: Head Games
Author: Joe Hill & Gabriel Rodriguez
Source: Library
Goodreads Summary (Volume 1):
Locke & Key tells of Keyhouse, an unlikely New England mansion, with fantastic doors that transform all who dare to walk through them. Home to a hate-filled and relentless creature that will not rest until it forces open the most terrible door of them all...
This is a graphic novel you will most certainly want to pick up if you haven't yet. Locke & Key has everything I look for in a good story, including a lot of character development, an incredibly intricate plot line, and discussion on dark issues. Sadly, I haven't heard as many people talking about Locke & Key as there should be.
The main plot, without me revealing too much, is that this family ends up in an old house after tragedy strikes. Key house has a lot of secrets and closed doors that the mom and three kids have to figure out, but like most other stories, the adults are a bit oblivious to the happenings and that leaves it all up to the kids. I don't want to say much more, but be sure that there are so many small, important details to keep track of and it's fun trying to figure out what's actually going on (even if I'm wrong most of the time).
Let me start with the story line. I am now convinced that Joe Hill is a master at creating worlds if Locke & Key has anything to say about it. The depth of this world amazes me after every reveal. You can tell he has put a lot of thought into the story and has taken his time to develop it into what he wants. This world has so many intricacies and I've only read up to the second volume, there's 4 more to go!
The characters are equally my favorite part of the story, but the "villain" has to be my favorite one. There is just so much more to him that gets revealed throughout the story and I keep finding myself wanting more of him. He's so evil but at the same time I'm conflicted with my feelings because of his backstory. The rest of the characters are just as dimensional. They have a lot of drama and in volume 2 we kind of get to see more about what the kids think and how they truly perceive their world. I think it was necessary for the development of the characters because now I actually care about them more.
The issues covered in this graphic novel are definitely darker. I would recommend this to a more mature reader. If you're on the younger side I would wait to pick this up, but pick it up once you're ready! I will be continuing on in the series and I might actually have to invest in my own copies since I checked these out from the library. I need these beauties on my shelf.
Overall Rating: