Title:

Ask Again Later
Author:

Liz Czukas
Publisher:

Harper Teen
Source:

Bought
Release Date:

March 11, 2014
Goodreads Summary:
Despite what her name might suggest, Heart has zero interest in complicated romance. So when her brilliant plan to go to prom with a group of friends is disrupted by two surprise invites, Heart knows there's only one drama-free solution: flip a coin.




Heads: The jock. He might spend all night staring at his ex or throw up in the limo, but how bad can her brother's best friend really be?




Tails: The theater geek...with a secret. What could be better than a guy who shares all Heart's interests--even if he wants to share all his feelings?




Heart's simple coin flip has somehow given her the chance to live out both dates. But where her prom night ends up might be the most surprising thing of all...
Ask Again Later was exactly what I needed after reading some more serious/intense books. I'm looking at you, Shadow Kiss and Clockwork Angel. My gosh! This book was not what I expected at all. I was thinking it was going to be more like her other book, Top Ten Clues You're Clueless, fun but a little juvenile. No, this was such a great time. I was cracking up from the very first page.

The main character, Heart, was great. She's not your typical shy, quiet MC. I wouldn't say she's popular, but she's not an outcast. She has great friends and is up for a having a good time. It was realistic and I loved reading from her perspective. It also helped that her voice was funny and sarcastic at times.

The romance was one of the most swoon worthy ones I've read in the past few months. Even though I knew from the very beginning who Heart would end up with, it was still a blast getting there. I also fell in love with her friends. They're your typical, carefree teenagers, but they're also there when Heart needs them most throughout the night.
Rating: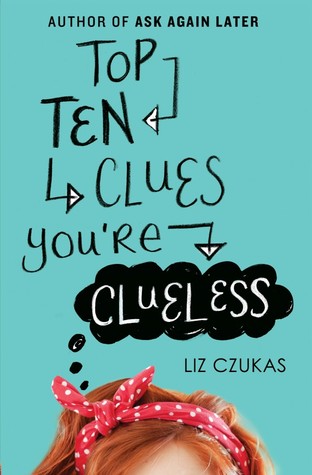 Title: Top Ten Clues You're Clueless
Author: Liz Czukas
Publisher:

Harper Teen
Source: Bought
Release Date: December 9th, 2014
Goodreads Summary:
Top Five Things That Are Ruining Chloe's Day
5) Working the 6:30 a.m. shift at GoodFoods Market
4) Crashing a cart into a customer's car right in front of her snarky coworker Sammi
3) Trying to rock the "drowned rat" look after being caught in a snowstorm
2) Making zero progress with her crush, Tyson (see #3)
1) Being accused—along with her fellow teenage employees—of stealing upwards of $10,000
Chloe would rather be anywhere than locked in work jail (aka the break room) with five of her coworkers . . . even if one of them is Tyson. But if they can band together to clear their names, what looks like a total disaster might just make Chloe's list of Top Ten Best Moments.
This is the book to pick up if you're looking for something very light and lots of fun. The premise of this book revolves around 6 teenagers and $10,000.
I loved the friendships that formed throughout the book. They were unlikely but it was fun to see them develop.
The story was kind of for a younger audience. It's still YA but I would say it's on the younger spectrum. The main character is 16 and she definitely acts 16. She's awkward and insecure but blabs a lot and doesn't know when to stop talking. I find that in a lot of YA the characters usually don't act their age. They're always fighting for something or having to be the voice of a revolution. That's not the case in this story. The main character really reminds you what it's like being a teenager.