"Waiting on" Wednesday is a meme hosted by Jill over at
Breaking the Spine
. This is a meme to share upcoming book releases that we are highly anticipating and dying to read! Most of the upcoming releases just look SO DARN GOOD.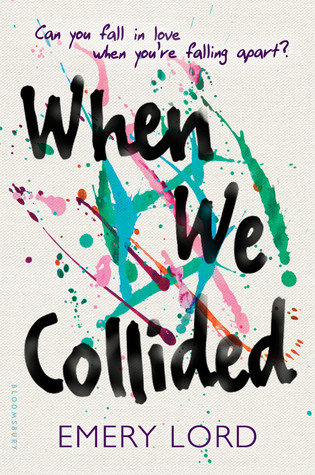 Title: When We Collided
Author: Emery Lord
Release Date: April 5th, 2016
Publisher: Bloomsbury
Goodreads Summary:
Meet Vivi and Jonah: A girl and a boy whose love has the power save or destroy them.
Vivi and Jonah couldn't be more different. Vivi craves anything joyful or beautiful that life can offer. Jonah has been burdened by responsibility for his family ever since his father died. As summer begins, Jonah resigns himself to another season of getting by. Then Vivi arrives, and suddenly life seems brighter and better. Jonah is the perfect project for Vivi, and things finally feel right for Jonah. Their love is the answer to everything. But soon Vivi's zest for life falters, as her adventurousness becomes true danger-seeking. Jonah tries to keep her safe, but there's something important Vivi hasn't told him.
Perfect for fans of E. Lockhart and Jandy Nelson, When We Collided is a powerful story of two teens whose love is put to the test by forces beyond their control.
Why Am I Excited?
I've really enjoyed both of Emery's other works but I liked her second one a teeny bit more. I am hoping that each book of hers just gets better and better. This sounds right up my alley and all of the people I know who have been so lucky to have already read this, said it was AMAZING and A MUST READ. I take their word and since it has Emery Lord's name on it, I'm there. Also, this cover is just amazing. Seriously, 2016 is the year of drool-worthy covers. I love the way the splattered paint looks and the way the title is written on the cover. So cute!! I can't wait to read this one.
Are you looking forward to this one? Have you already read it? What are you waiting on this Wednesday?