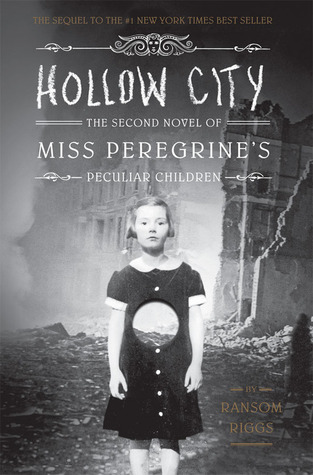 Title:
Hollow City
Author:
Ransom Riggs
Publisher:
Quirk Books
Publication date:
February 24th, 2015
Genre(s):
Young adult
Source:
Bought
Pages:
416
Add to Goodreads | Amazon | B&N
Miss Peregrine's Home for Peculiar Children was the surprise best seller of 2011—an unprecedented mix of YA fantasy and vintage photography that enthralled readers and critics alike. Publishers Weekly called it "an enjoyable, eccentric read, distinguished by well-developed characters, a believable Welsh setting, and some very creepy monsters."
This second novel begins in 1940, immediately after the first book ended. Having escaped Miss Peregrine's island by the skin of their teeth, Jacob and his new friends must journey to London, the peculiar capital of the world. Along the way, they encounter new allies, a menagerie of peculiar animals, and other unexpected surprises.
Complete with dozens of newly discovered (and thoroughly mesmerizing) vintage photographs, this new adventure will delight readers of all ages.
I finished this book 5 minutes ago and I'm reeling from the cliffhanger, sighing over the prose, running my hands over that gorgeous cover and going through all the photographs all at once.
Very simply put, this book was awesome. A stunning, nail-bitingly kickass sequel to one of my favourite series. Riggs progresses from his debut novel into the sequel with complete finesse. Never once does the plot falter or the pacing sound off. The work he put into this novel shines through each chapter, through each vividly different era or loop. It enhances what the first book introduced. It brings something new to the scene. It makes it's characters more dimensional. I'm literally gushing here guys. That's how great this book was.
Let's break this down, shall we?
Prose. I can't even tell you how many times I've read a paragraph over and over, getting the feel of the prose, savouring it slowly. It was just as gorgeous and hauntingly captivating as Miss Peregrine's Home For Peculiar Children (MPHPC from now on), if not more. His prose is vivid, detailed, and lyrical without sounding contrived or pretentious. It's very much in sync with Jacob's character and narrative tone. Writing a book requires a combination of good writing, and good storytelling— and Riggs excels at both, hands down. I will mention, though, that his writing style sorts of puts the reader at a distance from the characters. I felt like I was watching the story unfold, not living it, you know?
Pacing. I loved the pacing of this book a lot more than MPHPC. In the first book, the action picks up primarily in the second half, but Hollow City starts with a bang, leads the reader through a hell of a roller coaster ride, and ends with an even bigger bang. The characters are always on the move, always getting into some situation or the other and just when you think they can catch a break, Riggs twirls his proverbial moustache and goes LOL NO SORRY.
I loved it.
Character. Another aspect of the book I really loved was character development. As the ten peculiar children set off on their quest to help Miss Peregrine change back, they encounter more peculiar children, stumble into several loops and venture into different eras. Each subplot contributed significantly to their character. It allowed me to understand them more, in a way. They weren't particularly memorable for me in MPHPC, but they definitely distinguished themselves now. Enoch's cynicism, Olive's childishness, Emma's steeliness, Horace's sensitivity, Brownwyn's kindness-- I loved discovering these little aspects to their character as they all took on a more central role in this book. Riggs establishes the concept of team work wonderfully and realistically: the peculiar kids have their differences and are a little bewildered without their leader, but they all work it out by playing their strengths, and that's what really matters at the end.
If Jacob underwent a huge transformation in MPHPC, it was nothing compared to his emotional journey in Hollow City. As he battles his own insecurities about his peculiarity and tries to cope with his feelings for Emma, he comes into his own and gradually becomes more confident, more sure of himself. I do want to admit, though that I still haven't connected with him fully. I can't pinpoint it, but I'm still not on board with him as a main character.
Another not-so-nice aspect of the story? The romance. It's contrived and yuck and pointless. I just can't, I won't ship Emma and Jacob. Their ship is like a little rubber boat that's deflating with each chapter. I just don't see what they see in each other. Chemistry is zilch, nada. And there's the whole aspect where Emma is Jacob's grandfathers ex, that takes icky age difference to another insane level.
However, I'm immensely looking forward to Library of Souls, because Ransom Riggs you don't end books like that.