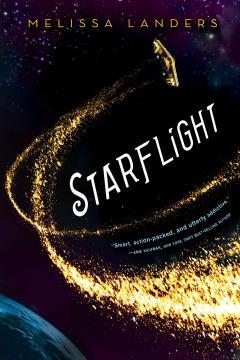 Title:
Starflight
Author:
Melissa Landers
Publisher:
Disney-Hyperion
Publication date:
February 2nd, 2016
Genre(s):
Young adult, Sci-fi
Source:
From publisher
Pages:
369
Add to Goodreads | Amazon | B&N
Life in the outer realm is a lawless, dirty, hard existence, and Solara Brooks is hungry for it. Just out of the orphanage, she needs a fresh start in a place where nobody cares about the engine grease beneath her fingernails or the felony tattoos across her knuckles. She's so desperate to reach the realm that she's willing to indenture herself to Doran Spaulding, the rich and popular quarterback who made her life miserable all through high school, in exchange for passage aboard the spaceliner Zenith.
When a twist of fate lands them instead on the Banshee, a vessel of dubious repute, Doran learns he's been framed on Earth for conspiracy. As he pursues a set of mysterious coordinates rumored to hold the key to clearing his name, he and Solara must get past their enmity to work together and evade those out for their arrest. Life on the Banshee may be tumultuous, but as Solara and Doran are forced to question everything they once believed about their world—and each other—the ship becomes home, and the eccentric crew family. But what Solara and Doran discover on the mysterious Planet X has the power to not only alter their lives, but the existence of everyone in the universe...
If I could sum this book up in a few words they would be, a BLAST (literally). The story takes place in a world where if you commit a crime, one of your punishments is to get a tattoo of that crime on your knuckles. Solara has committed more than one transgression, which pushes her to look for a better life far away from planet earth. Preferably where she won't be judged and where her skills as a mechanic can be valued. That's where the adventure begins. Up in space things go very wrong (as usual) and she ends up with a ragtag team on a ship that's falling apart, with the last boy she ever wants to see.
The characters were one of my favorite parts of the story. They each bring something different to the team and that's why they work so well together. Another aspect I loved, which happens to go hand in hand with the characters is the romantic relationship in the story. You know it's going to happen. It's not something that takes you by surprise in any way, but it manages to convince you it's the real deal as the story progresses. It's slow building and very much based on trust earned, not Insta love.
The plot of the story wasn't the most complex, but as I said before, it was enjoyable and filled with adventures. At every turn of the page there was something crazy going on. At the end something I wasn't expecting happens, and that leads to one of the most emotional moments of the story. There were moments when I was laughing, angry, happy, and gushing. There's a little bit for everyone in Starflight and if you're a fan of space pirates? You're in for a treat.