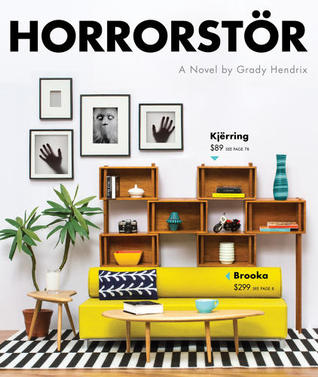 Author:
Grady Hendrix
Publisher:
Quirk Books
Source: Publisher
Something strange is happening at the Orsk furniture superstore in Cleveland, Ohio. Every morning, employees arrive to find broken Kjerring bookshelves, shattered Glans water goblets, and smashed Liripip wardrobes. Sales are down, security cameras reveal nothing, and store managers are panicking.




To unravel the mystery, three employees volunteer to work a nine-hour dusk-till-dawn shift. In the dead of the night, they'll patrol the empty showroom floor, investigate strange sights and sounds, and encounter horrors that defy the imagination.




A traditional haunted house story in a thoroughly contemporary setting, Horrorstör comes packaged in the form of a glossy mail order catalog, complete with product illustrations, a home delivery order form, and a map of Orsk's labyrinthine showroom. It's "a treat for fans of The Evil Dead or Zombieland, complete with affordable solutions for better living."—Kirkus Reviews.
The one thing I can tell you for certain about

Horrorstor

is that it's an experience in and of itself. The manufacturing of the book is so unique. It's shaped like an Ikea catalog, of course the name is changed to Orsk, and even the pages within look like blueprints. The font is blue, there are pictures of the items they sell, and each chapter even starts with a description of one of the products. If not for the story, I would recommend this book just for the experience of reading it. Plus, it looks fantastic on my shelf or just laying out on the coffee table. It's definitely a great conversation starter.
Horrorstor

revolves around this normal furniture store where weird things start happening, and three employees who get assigned to stay the night so they can find out what's going on when the lights go off and the doors close. That's basically all you need to know. They think it's an intruder at first, but it's so much more than that! The mystery behind what's really going on is unique, and the only complaint I would have is that I wish it would have been better explained in the end. I wanted to know the whole background story with all the scary details.
The characters Grady Hendrix created were completely realistic. Amy is a young college dropout simply trying to make a living by working at this store. She has roommates hassling her for rent money, a crappy car, and is just plain struggling. As a college student myself, this is very relatable. I can't say that I've experienced that level of struggle, but I'm surrounded by struggling college kids on the daily. I had roommates so I know the problems that arise from that and to me, anyone who has been a college kid will be able to relate very strongly with her. And even if you're not, I think you'll appreciate these characters. I've been reading some very flawed characters lately and I'm really liking it. I don't need my characters to be perfect, in fact, I prefer it when they aren't. The other characters are kind of obscured by Amy, but you still get some of their background, especially Ruth Anne (whom I loved). Two of the other characters, Matt and Trinity, were very interesting and I wish I could have gotten more of their back story as well.
The writing hooks you in from the first page and keeps you glued to the pages. The last 30 pages I was literally at the edge of my seat, and let me tell you that I don't use the word literally very loosely. If you would have walked throu

gh the doors of my house you would have found me sitting on the
edge of my couch, shaking my legs, and with a disgusted (in a good way) look on my face. And along with the creepy dark parts,
you get these sprinkles, or should I say - bursts of humor
. I loved the quirkiness and wittiness Grady Hendrix brought to the characters. I also really enjoyed t

heir progression and growth throughout the novel. It's always great to see character development, especially in a "horror" book.
To summarize my thoughts, I absolutely loved this book. It was my favorite "Creeptastic Reads" book of the month and probably my favorite read of October. Truly, the only thing I can say was that I wanted more when I turned that last page. I was happy with the ending, but that epilogue pulled me right back in and now I definitely wouldn't mind another book. I'll be picking up future Grady Hendrix novels without a doubt.
Rating:
The
horror
isn't too strong, but it was enough to make me shiver at some parts.