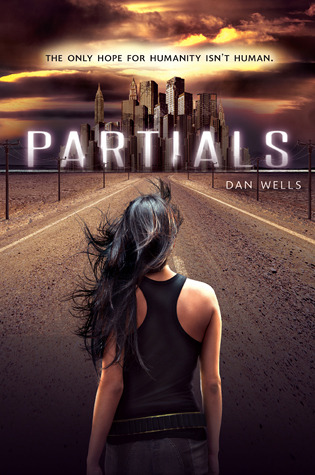 Title: Partials
Author: Dan Wells
Publisher: Balzer + Bray
Source: Purchased
Goodreads Summary:
For fans of

The Hunger Games

,

Battlestar Galactica

, and

Blade Runner

comes the first book in the Partials Sequence, a fast-paced, action-packed, and riveting sci-fi teen series, by acclaimed author Dan Wells.

Humanity is all but extinguished after a war with Partials—engineered organic beings identical to humans—has decimated the population. Reduced to only tens of thousands by a weaponized virus to which only a fraction of humanity is immune, the survivors in North America have huddled together on Long Island. But sixteen-year-old Kira is determined to find a solution. As she tries desperately to save what is left of her race, she discovers that that the survival of both humans and Partials rests in her attempts to answer questions about the war's origin that she never knew to ask.

Playing on our curiosity of and fascination with the complete collapse of civilization,

Partials

is, at its heart, a story of survival, one that explores the individual narratives and complex relationships of those left behind, both humans and Partials alike—and of the way in which the concept of what is right and wrong in this world is greatly dependent on one's own point of view.
This story takes place in a future where children don't live past the first few weeks of birth. There was this virus that took everyone out and only a group of people survived. So the whole book is based on the need to find a cure for the virus that's still killing the babies in order to ensure that the population doesn't die off. That synopsis was what made me want to pick up Partials in the first place because disease is something that can happen in real life and it was terrifying/fascinating to read about this future. While I enjoyed the characters, the story was too slow paced for me. I read this one as a buddy read with Juhina from
Maji Bookshelf
and Adeeb, but it was clear from the start that it was going to be a struggle for me to get through.
The one thing that really bothered me about this story was the overload of medical terminology. I know I might be in the minority on this, but I thought Dan Wells gave too much information that I didn't really care about. The descriptions of the experiments held by the main character were so in depth that I found myself zoning out. That said, I've heard from other readers and people that are interested in medicine and biology say that they really enjoyed that aspect of the story, so it all depends.
Aside from that, I thought the characters were realistic. Even some characters that I couldn't stand at the beginning showed character development as the novel progressed. A perfect example of this is Marcus, the main character Kira's boyfriend. He was immature, annoying and just all around not amusing, but towards the end of the novel I began to develop a soft spot for him. I got very invested in the characters, so much so that there were moments where things happened to them and I just felt like screaming for a full minute. I had to stop and send Juhina a message before I exploded with anger over what was happening to my beloved characters.
The format of the book itself was sort of unique. I liked how it was set up into three different parts. It felt like it was three separate stories because Dan Wells split them up so nicely. They all kind of have their own small storyline within the overarching storyline in the entire novel. I remember saying that this would make a great movie because of all the twists and turns, but maybe a TV show would be even better.
Overall, I enjoyed Partials but it won't be obtaining a space on my favorites shelf. Maybe if they had cut out a hundred pages or so. I'm still excited to see what comes next for the characters and where the story goes in Fragments.
Rating:
★ ★ ★ ★ / 5 stars