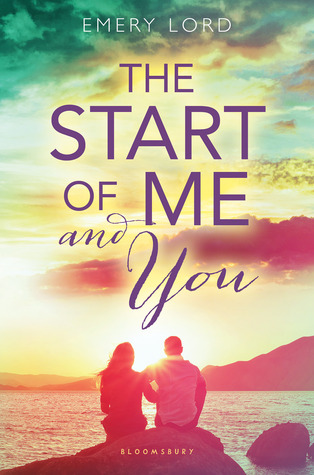 Title:
The Start of Me and You
Author:
Emery Lord
Publisher:
Bloomsbury
Source:
Physical ARC (My thanks go out to Bloomsbury!) In no way did this affect my opinion of the book.
Release Date:
March 31st, 2015
Goodreads Summary:
Brimming with heartfelt relationships and authentic high-school dynamics
The Start of Me and You
proves that it's never too late for second chances.
It's been a year since it happened—when Paige Hancock's first boyfriend died in an accident. After shutting out the world for two years, Paige is finally ready for a second chance at high school . . . and she has a plan. First: Get her old crush, Ryan Chase, to date her—the perfect way to convince everyone she's back to normal. Next: Join a club—simple, it's high school after all. But when Ryan's sweet, nerdy cousin, Max, moves to town and recruits Paige for the Quiz Bowl team (of all things!) her perfect plan is thrown for a serious loop. Will Paige be able to face her fears and finally open herself up to the life she was meant to live?
This book has a ton of hype surrounding it. This hype is mainly from people who have read and loved Emery's first novel, Open Road Summer. I have not read that (yet, I do own a copy and cannot wait to read it) but I was still so pumped about this release. It sounded like a perfect contemporary for me. I was right. I absolutely adored this book and everything it had to offer. It had wonderful and real characters that I connected with so quickly. This book surrounds so many different topics which is another reason why I adored it. When an author can hit so many different topics and do it well, that shows that it is a great book. Some of the topics that were dealt with in this book include:
1. Death: Paige's boyfriend died and she wants to overcome this and not be known as the girl whose boyfriend died. Death is a hard topic for any book but Emery dealt with this topic in a way that I really appreciated.
2. Friendship: Along the way, Paige meets many new people and friends who help her with this hard time in her life. They are there for her when no one else is. I love some good friendships in my contemporaries so I loved this aspect.
3. Family: Family doesn't come up a whole lot in YA. Many times it seems like the parents are nonexistent because they are never mentioned. Although this doesn't heavily deal with the topic of family, it mentions it and has some scenes heavily focused on family which I really enjoyed seeing and I found it to be refreshing to read about in a young adult novel.
4. Nerdy moments: I'll admit it, I am a nerd. I LOVED the nerdy aspects of this book and I found that those made this book seem much more relatable and easier to be connected to. I loved the Quizbowl matches. So fun!
Overall, this was an amazing book that I would recommend to just about everyone but especially fellow contemporary lovers. If you enjoy serious books that have fun and more silly moments mixed in, this is the book for you.
Rating: