"Waiting on" Wednesday is a meme hosted by Jill over at
Breaking the Spine
. This is a meme to share upcoming book releases that we are highly anticipating and dying to read! I am always keeping my eye on the upcoming new releases.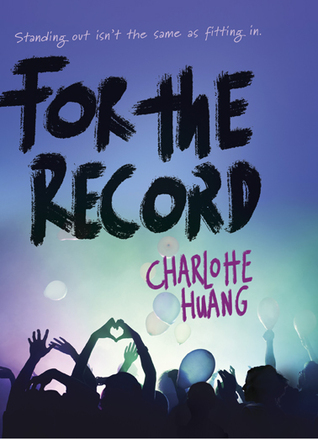 Title:
For the Record
Author:
Charlotte Huang
Release Date:
November 10th, 2015
Publisher:
Delacorte Books for Young Readers
Goodreads Summary:
If Almost Famous were a YA novel... a raw, honest debut celebrating music, friendship, romance, and life on the road.

Chelsea thought she knew what being a rock star was like... until she became one. After losing a TV talent show, she slid back into small-town anonymity. But one phone call changed everything
Now she's the lead singer of the band Melbourne, performing in sold-out clubs every night and living on a bus with three gorgeous and talented guys. The bummer is that the band barely tolerates her. And when teen heartthrob Lucas Rivers take an interest in her, Chelsea is suddenly famous, bringing Melbourne to the next level—not that they're happy about that. Her feelings for Beckett, Melbourne's bassist, are making life even more complicated.
Chelsea only has the summer tour to make the band—and their fans—love her. If she doesn't, she'll be back in Michigan for senior year, dying a slow death. The paparazzi, the haters, the grueling schedule... Chelsea believed she could handle it. But what if she can't?
Why I Am Excited?
Contemporary is my favorite genre so I am always looking out for the newer contemporaries. I also love books that deal with music and bands. This one seems so interesting and I am so excited to read it! I also love the cover design and the colors used for it. Also, one of my very best friends, Nori has already read this one and she gave it 5/5 stars so that must mean it's good! I cannot wait to get my grabby little hands on this one.
Are you looking forward to this release? Have you already read it? If so, what were your thoughts? What release are you waiting on this week?