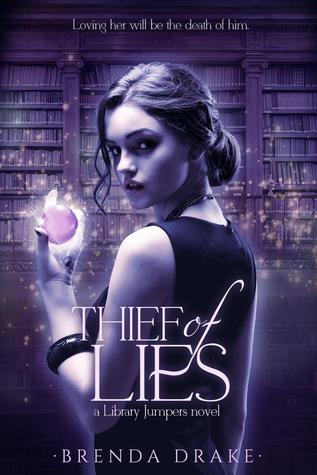 Title:
Thief of Lies
Author:
Brenda Drake
Publisher:
Entangled Teen
Publication date:
January 5th, 2016
Genre(s):
Young adult
Source:
e-ARC from Entangled Teen
Pages:
400
Add to Goodreads | Amazon | B&N
Gia Kearns would rather fight with boys than kiss them. That is, until Arik, a leather clad hottie in the Boston Athenaeum, suddenly disappears. While examining the book of world libraries he abandoned, Gia unwittingly speaks the key that sucks her and her friends into a photograph and transports them into a Paris library, where Arik and his Sentinels-magical knights charged with protecting humans from the creatures traveling across the gateway books-rescue them from a demonic hound.
Jumping into some of the world's most beautiful libraries would be a dream come true for Gia, if she weren't busy resisting her heart or dodging an exiled wizard seeking revenge on both the Mystik and human worlds. Add a French flirt obsessed with Arik and a fling with a young wizard, and Gia must choose between her heart and her head, between Arik's world and her own, before both are destroyed.
When I first received the email about reviewing this book I read the synopsis but by the time I picked up the book I had forgotten everything, so I went into Thief of Lies completely blind. It was an unexpected whirlwind of fun. It

captured my interest from the first few pages when everything starts happening at rapid speeds and you don't really know where to look.
I think one of the reasons I enjoyed this book so much was because it reminded me of the Magic Treehouse books where the main characters could travel through books into other places. In this case they travel through books to get to different libraries around the world. How cool is that? I know a lot of us wish we had a book that allowed us to travel the amazing libraries of the world. But that's where the similarities end. This story has an amazing complex world that was a mystery in itself. I loved learning more about the world because when you think you know everything, there's always something else. The magic system is probably one of my favorites. There are magic orbs that they use in fighting, including water, fire, wind, stun, lightning and many others. But that's just the tip of the world. I'm super excited to continue this series and unveil more of the amazing world Brenda Drake has created for us.
Even though the world was so complex and Brenda had so much to explore and so much to tell the reader, the writing was simple enough that it really helped the story move at a faster pace. Usually when I read fantasy book with entire other worlds to explain they drag, there's info dump, we get less of the characters and more of the world. That was not the case here at all. You won't find a single moment where you can say you were bored or that the story dragged. There was a twist at the end of almost every chapter, some I guessed, some I didn't, but I loved all of it. As I was reading this book I was also reading Passenger by Alexandra Braken and the writing in that one just made the story drag on so this was a nice break from that.
The friendships and relationships,

whether

romantic, father-daughter, spousal, or otherwise, were my favorite part of the entire story. I love how within the friend groups they bicker but when it gets tough they stick together and you can see the support they have in each other with the small touches; an arm thrown over someones shoulder, a hand on their back, a tissue silently handed to the other person, or a sword at the ready to defend them.
All of the characters are fantastic and I cared deeply for them all. The main character, Gia was a typical curious teenager and even though she's "special" she's also scared. I like main characters who aren't always willing to die for everyone without a second thought, and while she was brave and ready to defend her loved ones, there were times when she was also terrified for what was to come. It made her more realistic to me. (I do wish she weren't quite so clumsy though). There is also a love triangle, kind of, but I didn't care at all. They were both well done and it wasn't some random unnecessary love interest thrown in there for no other reason than to add more hot guys into the story (although it did help that they were both hot and swoon worthy). They all had a purpose. There wasn't a single character that I couldn't stand, well...maybe the evil guy? I'm really looking forward to the sequel and it can't come fast enough (even though this one releases tomorrow and we still have SO LONG to go for the sequel). What a way to start my reading year. Pick this one up when you're in need of a fast paced fantasy.