Waiting on Wednesday is a meme hosted by Jill over at
Breaking the Spine
. This is a meme to share upcoming book releases that we are highly anticipating and dying to read!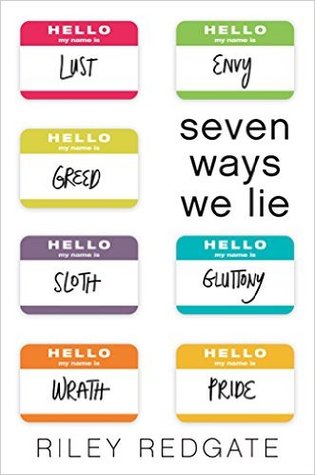 Title: Seven Ways We Lie
Author: Riley Redgate
Publisher: Amulet Books
Publication date: March 8th, 2016
Genre(s): Young adult, Contemporary
Paloma High School is ordinary by anyone's standards. It's got the same cliques, the same prejudices, the same suspect cafeteria food. And like every high school, every student has something to hide—whether it's Kat, the thespian who conceals her trust issues onstage; or Valentine, the neurotic genius who's planted the seed of a school scandal.

When that scandal bubbles over, and rumors of a teacher-student affair surface, everyone starts hunting for someone to blame. For the unlikely allies at the heart of it all, their seven ordinary-seeming lives result in extraordinary change.
Why Am I Excited?
I haven't heard much about this book but once I fell upon it on Goodreads, I knew I wanted to read this. The cover immediately caught my eye because of its minimalist but colorful design. The summary is quite short and vague but it still seems really interesting. I will definitely be looking out for this one closer to release date! I'm really looking forward to reading this one.
Are you looking forward to this release? What are you waiting on this Wednesday?