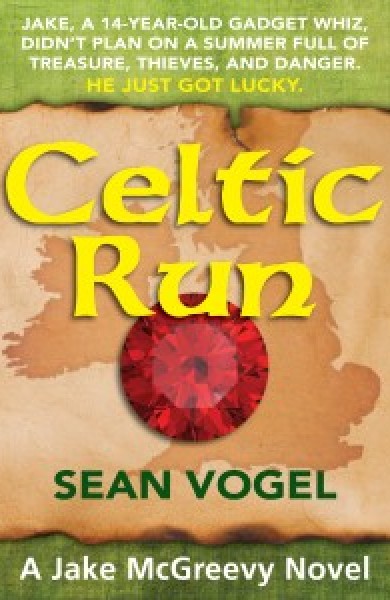 Jake, a 14-year-old gadget whiz, didn't plan on a summer full of treasure, thieves, and danger. He just got lucky.

While in Ireland on a class trip, Jake stumbles upon the first clue to a treasure missing from the Spanish Armada. Jake sees the riches as his chance to buy back the family sailboat and restore a piece of the life he enjoyed before his father was critically injured in an accident. Desperate to find the treasure, Jake teams up with Zach, his nemesis and class bully, and two girls in a clue-hunting chase across the Dingle Peninsula.
Dodging would-be thieves, exchanging wisecracks with Zach, and concocting ingenious devices to get them out of scrapes, Jake leads the team as they connect piece after piece to the 400-year-old mystery.
I knew this was going to be a fast paced, fun adventure from one of the very first lines, "
Everyone has an archenemy
, Jake thought.
Luke Skywalker has Darth Vader, Harry Potter has Voldemort. Me? I have Zach."
The story promptly picks up as soon as Jake gets off the airplane in Ireland. We get a great mixture of characters that I think the reader can relate to. I do believe that this book is aimed at an younger audience (middle grade and younger teens) and that they will really relate to Jake. He's just your average 14-year-old. He wants to go on adventures, get the girl and have fun while doing it all. Jake is also kind of your hero. Then there is Zach. Jake and him don't get along at all but I liked his character because you can definitely see his growth throughout the novel. The two main girls are Julie and Maggie. They have both have their shining moments and aren't your typical damsels in distress. And where would we be without some villains? The villains reminded me of the crooks from Home Alone.
The story itself was action packed and all around fun. There was a new adventure around every corner and I'm pretty sure these kids faced just about everything. Jake was an ultimate gadget wiz and prankster. Some of the pranks and stunts he pulled were also reminiscent of Home Alone, which I thought was great. Even though it was supposed to be adventurous, the characters also had their personal problems and it really brought the book to another level for me.
Overall I enjoyed Celtic Run. My recommendation would be for younger teens. If you have a younger brother that doesn't go around reading everything, then this might just be the book for them. Or even if you're a teen or adult who enjoys reading a fast, light, adventure read then I suggest Celtic Run.
3.5 stars