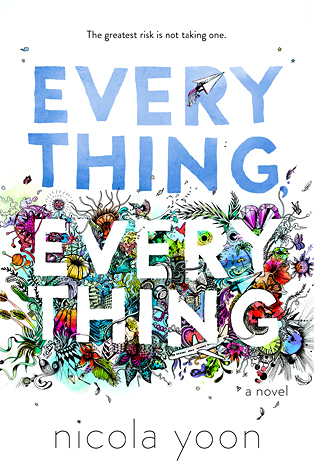 Title:
Everything, Everything
Author:
Nicola Yoon
Publisher:
Delacorte Books for Young Readers
Source:
I received an e-ARC of this book on Netgalley from Delacorte Books for Young Readers in exchange for an honest review. This has in no way changed my opinions and thoughts.
Release Date:
September 1st, 2015
Goodreads Summary:
This innovative, heartfelt debut novel tells the story of a girl who's literally allergic to the outside world. When a new family moves in next door, she begins a complicated romance that challenges everything she's ever known. The narrative unfolds via vignettes, diary entries, texts, charts, lists, illustrations, and more.
My disease is as rare as it is famous. Basically, I'm allergic to the world. I don't leave my house, have not left my house in seventeen years. The only people I ever see are my mom and my nurse, Carla.
But then one day, a moving truck arrives next door. I look out my window, and I see him. He's tall, lean and wearing all black—black T-shirt, black jeans, black sneakers, and a black knit cap that covers his hair completely. He catches me looking and stares at me. I stare right back. His name is Olly.
Maybe we can't predict the future, but we can predict some things. For example, I am certainly going to fall in love with Olly. It's almost certainly going to be a disaster.
As book bloggers, we all know (or at least most of us know) the struggle of writing a review for a book you REALLY loved. This is my current struggle. All I want to say is READ THIS BOOK NOW. It's hard to write reviews for books you loved a lot because you want to do the book justice but it's sometimes hard to stop the flailing and fangirling in order to do so. As you can see, I loved this book.
I thought the main plot of this was very interesting. A girl allergic to the world? I've never read a book with that type of plot line before. From the summary, it may sound sort of cliche but it's not. It was a beautiful story and Olly was perfect! He was so kind and I loved the way he treated and interacted with Madeline. I loved his character and I also really enjoyed reading from Madeline's point of view. It was interesting to be thrown into her life and seeing how she deals with this issue. The characters in this book were just great and characters are always a pretty big deal to me in books so that was definitely a plus for me! The romance was perfect for me. It was such a lovely and real-feeling romance. I loved reading about them and every time they were together I was swooning and loving every word and piece of dialogue between the two.
Throughout the book there are little illustrations and doodles which I absolutely loved. I love books that are visually pleasing and uniquely formatted. This one definitely fits that standard. I was always excited to see the next doodle, illustration, chart, etc. I thought that element really added to my enjoyment of the book.
The writing was beautiful. It was simple but so, so beautiful. It read very quickly but it was also so beautiful. I loved Nicola's writing style and I will definitely read anything else Nicola writes because of her writing style. It was absolutely gorgeous. I don't know if I've already said this but I thought the writing style was beautiful. Can't say enough about it. I can't believe this is her debut novel!
So, as you can see, I would definitely recommend this book! No doubt about it. Beautiful writing, amazing characters, a unique format, what else could you want? Definitely have this one on preorder!
Rating:
★ ★
★
★
★ / 5 stars
(5 stars)