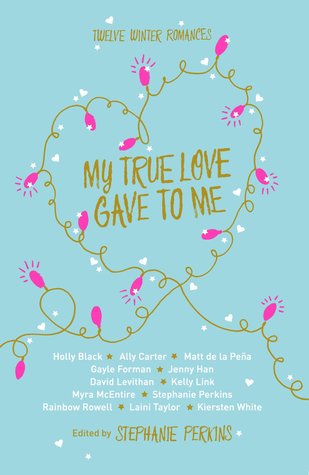 Title: My True Love Gave to Me
Author: Various
Publisher: Macmillan
Publication date: October 9, 2014
Genre(s): Young adult
Source: Purchased
Pages: 355
On the first day of Christmas, my true love gave to me ...This beautiful collection features twelve gorgeously romantic stories set during the festive period, by some of the most talented and exciting YA authors writing today. The stories are filled with the magic of first love and the magic of the holidays.
I'm not going to give summaries because the stories are already short and I don't want to give anything away, but I will let you know how I felt about each one.
Midnights by rainbow Rowell
This story is less a Christmas story and more a new year story. It was increasingly cute and had me smiling for almost half of it, but I wouldn't expect anything different from Rainbow Rowell. I love when you start a story and you don't know anything about them, but by the end you've fallen for the characters and are cheering them on. That's what happens in this adorably cute story about best friends and midnight kisses. (4/5 stars)
The Lady and the Fox by Kelly link
This story actually read like a ghost story to me. I don't know if it was just me, but the way things developed I was expecting something creepy to happen and I had to keep reminding myself that this was a Christmas anthology with happy stories. Honestly, I was expecting something like the little match girl. Also, the writing style was very strange and I couldn't get into it at first. But as the story progressed I found myself liking it more and more and as the last page approached I was left wanting more from the characters and more about their background. It was a complicated sort of story. You had to pay attention to what you were reading, but I wouldn't mind reading a stand alone novel inspired by this story. (3.5/5 stars)
Angels in the Snow by Matt de la Peña
This one wasn't exciting at all and I didn't connect with the characters. I should have, being a college student and all, but I just didn't. One thing I did like about this story was that the main character is Hispanic. He's from a Mexican family, and although I usually hate stories with Spanish characters, because I'm Spanish and they never get it right (they never get the language right and always make the characters sound like Spanglish speakers). Matt de la Peña did it right, down to the Christmas Eve mess of food and family and laughter. So for that, thank you. (3/5 stars)
Polaris is Where You'll Find Me by Jenny Han
This one was so short, I think it might be the shortest of the bunch at 14 pages. Not sure how I felt about this one, maybe a little disappointed because it's Jenny Han and I was expecting way too much. The story was very cute, although the main character wasn't my favorite, but the ending had me feeling all the feels. (3/5 stars)
It's a Yuletide Miracle, Charlie Brown by Stephanie Perkins
Wow, I forgot how amazing Stephanie Perkins writing can be. It's been a while since I read Anna and Lola but this short story reminded me I have to dust off my laziness and go get Isla because I've been missing out. The characters had this instant likability and she managed to give them so much depth in such a short story. I loved the banter between the two main characters. They were smart and refreshingly honest. The only thing I didn't particularly like was the insta love, but I understand there's limited time to work with in a short story. (5/5 stars)
Your Temporary Santa by David Levithan
It wasn't the best developed story of the anthology. It seemed like there weren't too many explanations and I definitely wanted some. The story was cute and the interaction between "Santa" and the little one were adorable. He was so dedicated to making it real for her. The tone of the story was kind of sad and depressing. The characters were having a rough time and I could really feel it in the writing. The love story was between two guys, but the story doesn't focus on the relationship between them as much. (3/5 stars)
Krampuslauf by Holly Black
I've never read anything else by holly black, although I do own Tithe and Coldest Girl in Cold Town, but I was surprised by this one. I know a lot of people didn't particularly like this short story but I thought it was magical and interesting. At least compared to the previous story, it was something that grabbed my attention. I liked the characters, their fierce friendship with each other reminds me of my own best friends, and I just thought the main character was relatable. Her dreams and aspirations reminded me of myself. Plus the magical/paranormal element was entertaining as well. (4/5 stars)
What the Hell Have You Done, Sophie Roth? by Gayle Forman
This has to be in my top three stories in this anthology. Sophie Roth is a big city girl going to college in the middle of the country, and her classmates won't let her forget it. Then one night she goes on an adventure and ahhh! I wish it was my own adventure. There was romance, swoon worthy moments, sweet moments and funny moments. The ending was perfect and as I said of Stephanie Perkins story, Gayle Forman managed to show us Sophie's character development in this incredibly short story. (4.5/5 stars)
Beer Buckets and Baby Jesus by Myra McEntire
This one was fun but I didn't love the insta romance that occurred. I get that the characters knew each other from before but it just all seemed to move too fast. (3/5 stars)
Welcome to Christmas, CA by Kiersten White
Oh, wow! I was giving up hope on this anthology. It was dragging on and dragging me along with it, but Kiersten's story brought me back. It's the only story I felt was complete. A lot of the other ones were lacking that ending for me. It was the perfect Christmas story. The characters were everything. Kiersten knows the exact mixture of snarky, funny and sweet to add to her characters. I actually found myself tearing up at parts as I read this in the middle of the night (happy tears of course!) and I'm not a crier. I wish I had read this on Christmas Day. (5/5 stars)
Star of Bethlehem by Ally Carter
This was also one of the better stories. It kept me invested the entire time. True to Ally Carter's style there's some mystery to this story. The main character is running away from something and you're left to guess what it is. Oh! There's also a helicopter, because what kind of Ally Carter story would this be if it didn't have one? ;) (4.5/5 stars)
The Girl Who Woke the Dreamer by Laini Taylor
Wtf? This was so weird. My least favorite. It was painful to try to get to the end. (2/5 stars)
It averaged out to 3.79 stars. For the sake of Goodreads I'm going to give it 4 stars. Some of the stories towards the end redeemed themselves and there are definitely stories that I'll be reading each year around Christmas. I recommend giving this holiday anthology a try if you are looking for something a little festive to read this year.