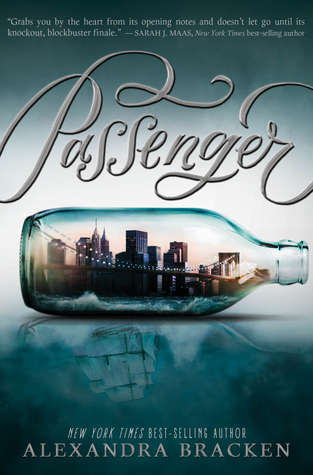 T
itle:
Passenger
Author:
Alexandra Bracken
Publisher:
Disney Hyperion
Publication date:
January 5, 2016
Genre(s):
Young adult, Historical, Time Travel
Source:
ARC from Disney Hyperion
Pages:
496
Add to Goodreads
|
Amazon
|
B&N
passage
, n.
i. A brief section of music composed of a series of notes and flourishes.
ii. A journey by water; a voyage.
iii. The transition from one place to another, across space and time.
In one devastating night, violin prodigy Etta Spencer loses everything she knows and loves. Thrust into an unfamiliar world by a stranger with a dangerous agenda, Etta is certain of only one thing: she has traveled not just miles but years from home. And she's inherited a legacy she knows nothing about from a family whose existence she's never heard of. Until now.
Nicholas Carter is content with his life at sea, free from the Ironwoods—a powerful family in the colonies—and the servitude he's known at their hands. But with the arrival of an unusual passenger on his ship comes the insistent pull of the past that he can't escape and the family that won't let him go so easily. Now the Ironwoods are searching for a stolen object of untold value, one they believe only Etta, Nicholas' passenger, can find. In order to protect her, he must ensure she brings it back to them— whether she wants to or not.
Together, Etta and Nicholas embark on a perilous journey across centuries and continents, piecing together clues left behind by the traveler who will do anything to keep the object out of the Ironwoods' grasp. But as they get closer to the truth of their search, and the deadly game the Ironwoods are playing, treacherous forces threaten to sep­arate Etta not only from Nicholas but from her path home . . . forever
As soon as I heard about Alexandra Bracken's new book I knew I had to get a copy as soon as humanly possible. I was so excited to start it that I put aside all other books when Passenger came in the mail. Let's be real. A time travel story that promised adventure, awesome fashion from different time periods, a creepy bad guy (my favorite kind of bad guy), and a romance that sounded so swoon worthy? What could go wrong? It seems like a lot went wrong in this book for me.
Etta is a musical prodigy that is finally going to have her debut into the musical world like her musical inspirations before her, but is suddenly, and very literally, pushed into the middle of a power struggle between a completely evil man and some other just as evil people. There are very few people she can trust and now has to embark on this journey through time in order to find a powerful object. In comes Nicholas who wants nothing to do with this but is forced into the journey as well, and thank God because I really did like his character.
I seem to have a very strange relationship with Alexandra Bracken's books. Even though The Darkest Minds is one of my all time favorite books and probably my #1 book of 2013 (even though it was the last book I read of 2013 and it had a lot of other amazing competition), it took me a couple tries to finally get hooked into the story. The same thing happened with Passenger, except sadly it never really hooked me. I thought I would fly through the story since Alexandra Bracken writes fantastic characters, and I knew that now from having stuck with The Darkest Minds, but instead I spent 4 days getting past the first 100 pages. I would like to say that once your past that it's a fast ride into the depths of Etta and Nicholas' story, sadly that wasn't the case for me. It took me forever, and by forever I mean almost a month, to finish Passenger. I thought the first 4 days of me reading it was tough? I didn't know what I had coming.
The story itself was interesting and I wanted to know more, but the slow writing killed it for me. The actual dialogue was few and far between and there were more descriptions and inner monologues than anything else. Passenger could have easily been 300 pages instead of almost 500. While I was interested in what was coming, after around page 250 I couldn't bring myself to even look at the book for a while. That was so painful to me to want to love a book so much but at the same time have no desire to read it. There were things going on in the story but at the same time I felt like NOTHING was happening. It was the same thing over and over again; find a passage, go through the passage, find another passage, go through that passage. The promise of a treasure hunt through time was something that I didn't know I needed in my life until I first heard about it, but this didn't deliver.
What saved the book for me (and I wouldn't call it saving because I still struggled) were the characters. I was fairly attached to them. I'm intrigued as to where the sequel is going to take these characters, but I'm seriously hoping for less descriptions and more action in the sequel. The ending also kind of gives me hope for the second book. I like where the story is going and how it's starting to take shape.
The good thing about 2016 is that it seems to be the year of time travel stories. I'm sure if this falls short for you, as it did for me, one of the million other ones will fulfill our need for an action packed time travel story with a sprinkle of that dramatic romance that time travel stories always seem to bring.
One thing I will say is that I would love to see Passenger turned into a movie. I think it would be perfect as a movie since they could really play on the descriptions and we would get to see how they work with the different centuries. I would personally die to see the costumes. Seeing Nicholas on the big screen wouldn't hurt either. If you're a fan of historical fiction with lots of descriptions maybe Passenger will be the book for you!